9D VR Cinema,,ar,Games Equipment, cea mai nouă tehnologie VR, tradusă ca platformă de realitate virtuală cu experiență dinamică, este formată din ochelari (VR), platformă dinamică pentru efecte speciale, filme 3D și platformă de control pentru PC!,,en,Să începem cu 4D, astfel încât să aflați ce este,,en,din diferența dintre 4D, 5D, 7D, 9D VR Cinema?,,en,Termenul de marketing pentru un sistem de prezentare a divertismentului Combinând un film 3D cu efecte fizice care apar în teatru în sincronizare cu filmul.,,en,Efecte simulate în a,,en,poate include ploaie, vânt, schimbări de temperatură, lumini stroboscopice și vibrații. Scaunele din locurile 4D pot vibra sau deplasa câțiva centimetri în timpul prezentărilor.,,en Games Equipment, the newest VR technology, translated as dynamic experience virtual reality platform, it's consists of (VR) glasses, dynamic special effects platform, 3D films, and PC control platform!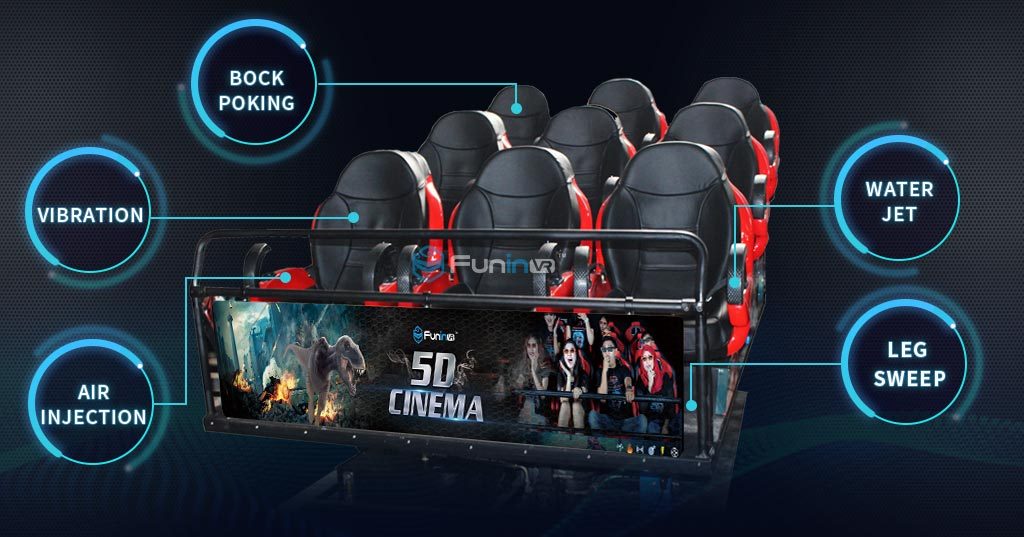 Let's get started with 4D, so you will learn what's 9d VR cinema from the difference between 4D, 5D, 7D, 9D VR Cinema?
4D
The marketing term for an entertainment presentation system Combining a 3D film with physical effects that occur in the theatre in synchronization with the film.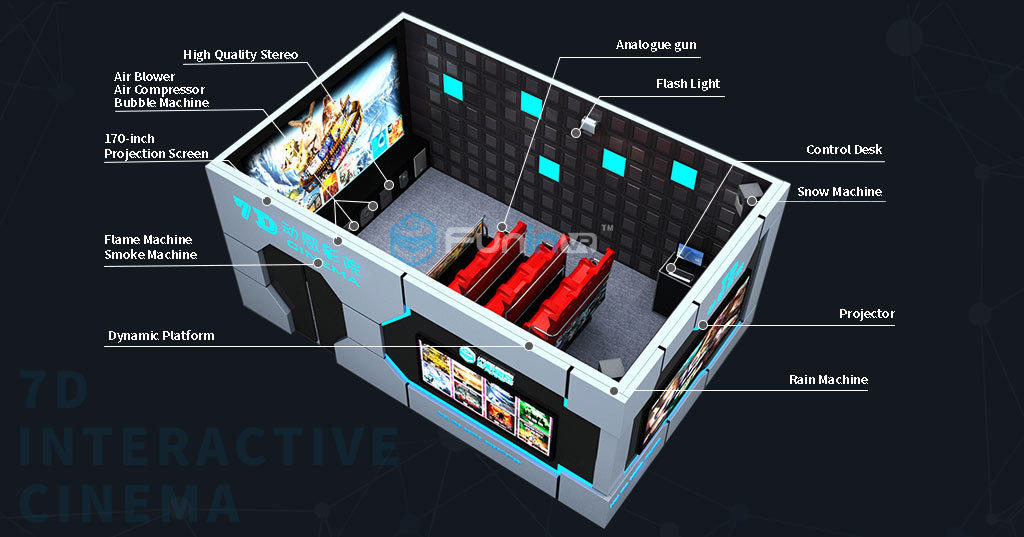 Effects simulated in a De film 4D may include rain, wind, temperature changes, strobe lights, and vibration. Seats in 4D venues may vibrate or move a few centimeters during the presentations.
Alte efecte comune ale scaunului includ jeturi de aer, spray-uri de apă și căpușele pentru picioare și spate. Efectele auditoriului pot include fum, ploaie, fulgere, bule de aer și miros.,,en,5D,,ar,Termenul de marketing pentru filme 3D, divertisment pentru jocuri 3D, cu mișcare a scaunului și diverse efecte speciale precum 4D (zăpadă, vânt, ploaie, bulă, etc.) Este o întâlnire obișnuită în parc, cu un teatru mic cu 3-12 persoane, bun pentru rularea comercială . Așadar, este special pentru jocul și filmul 3D scurt cu mai puțin public!,,en,7D,,ar,7D este un cinematograf interactiv, puteți utiliza arma de jucărie pentru a trage ținta. După ce filmați personajele din filme pot vedea scorul.,,en
5D
The marketing term for 3D Movies, 3D Games entertainment with seat movement and various special effects like 4D (Snow, Wind, Rain, Bubble, etc) It's common see in the park with a small theatre with 3-12 person, good for commercial running. So it's special for the game and short 3d movie with less audience!
7D
7D is an interactive cinema, you can use the toy gun to shoot the target. After you shoot the characters in the movies they can see the score.
9D
9D este cea mai nouă tehnologie din lume. Cel mai popular simulator de realitate virtuală, trebuie doar să poarte ochelari VR și apoi să intri în lumea VR a jocului și filmelor în 360 de grade. Spectatorii au o distracție imersivă și uimitoare de trecere între lumea virtuală și lumea reală.,,en,Și scaunul nostru VR, are un scaun dinamic full-motion & amp; Efecte bogate asupra mediului (jet de aer, lovitură de picior, difuzor, tracțiune din spate, vibrații, fotografiere),,en,Faceți publicului să aibă cel mai puternic simț al realismului din expunerea auditivă, vizuală, tactilă, ca expunere la filme, prin simularea de mediu pentru a avea vânt, jet de aer, atingere a picioarelor, poke în spate, efecte de vibrație asupra mediului, senzație reală, imersiv și distractiv .,,en
And our VR Chair, It has a full-motion dynamic Seat & rich environmental effects (Air jet, Leg Sweep, Speaker, Back poke, Vibration, Shooting)
Make the audience to have the most powerful realism sense from the auditory, visual, tactile, as exposure to the movies, through environmental simulation to have wind, air jet, leg touch, back poke, vibration environmental effects, real feeling, immersive and fun.
8D, 10D, 11D, 12D sunt toate similare cu 7D. Folosește doar un număr mai mare pentru a numi cinematograful, dar efectul este aproape ca cinematograful 7d. Cineva folosește numele mai mare pentru a atrage mai mulți clienți.,,en,Ce este diferența dintre 4-dimensiuni-5D-6D-și-7D-filme | Xindy Animation Inc.,,en
Ați putea dori, de asemenea,