21-Apr-2015

Categories

Tags

Custom Name

Custom Value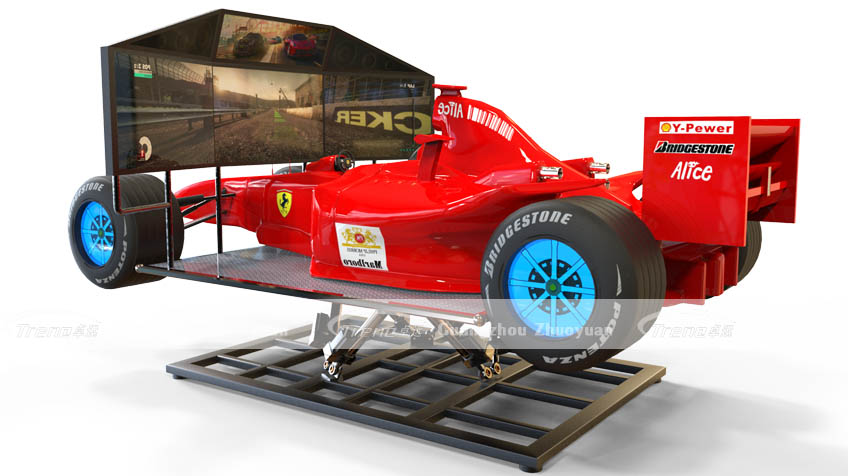 What's F1 Simulator
F1 racing car developed by Zhuoyuan Group, a leading international dynamic control technology, electric cylinder six degrees of freedom dynamic platform, truly closely integrated with the game. You can complete the dive, climb, tilting, turning, rotating, falling, bumps and other difficult thrilling action from the dynamic driving control, audio, ultra-realistic simulation aspects give users experience.

Support Games
F1 racing car support many games, not only support large dust Rally game series, Formula F1 racing series, also supports the Super Touring Car series. Track numerous game scene from Norway to Monaco, from the plains of Africa and then to China Lijiang, the track number more than 100. Models everything, including Fox, Citroen, Peugeot, Toyota, Mitsubishi, Audi, Renault, Abbas, Fiat, BMW, Hummer, Infiniti, Ferrari and so on. At the same time contains many different game play modes, allowing you to enjoy in real life it is difficult to experience the thrill of racing
Application
F1 racing car brought unprecedented ultra-realistic experience, to fill gaps in the domestic car market, but also brought unlimited business opportunities. It does not just apply to amusement parks and theme parks, but also can be used for science exhibition hall, vacation spots, private business club, Racing Club, racing simulation teaching, auto 4S shops, high-end real estate sales, hotel, KTV, game room, large cinema, home theater, auto, aviation exhibition, publicity display various large-scale events.
Product Principle
The main hardware products include: computers, three-screen high-definition display, professional simulation steering wheel kit, professional motion controller, servo motors, electric cylinder six degrees of freedom platform, F1 racing car body. The driver through the steering wheel to control the game, dynamic control system based on body posture rotation within the game is controlled by professional motion controller servo motor, servo motor drive electric cylinder linear motion, tilt back and forth to form, tilt, rotate the level around the pan, about translation , rising and falling six degrees of freedom.
Why Choose Us
The game in system with a particularly clear picture and audio like cordillera,Gulf and town and so on.plus the moving and realism feeling, have been held a sweeping market.Any way,we are Zhuoyuan Group,we can guarantee our client's profit and provide perfect After-sales Service.Contact us and cooperate with us,let's create a entirely new market and get win-win cooperation.
1. 14 years manufacturing experience, the top three Brand in dynamic simulation industry.
2. Clients from more than 120 countries.
3. Almighty and a perfect master program.
4. professional team to provide you professional technical support.
5. 24 hours professional sales team work for you.
6. All of our products have passed CE certification.
7. Our technicians can go to different countries to help customers solve problems.
After sale service
1.Dispatching our technician to your location to complete the installation and teach you daily maintenance.
2.No damage to human factors, one year warranty, life-long maintenance.
3.Lifetime free software upgrade.
2015 Crazy Hottest Project !! Xindy 720 Degree Flight Simulator with Flight Game!!! What is 720 Degree Flight Simulator? 720°Flight simulator,as company's own R & D product which employ various types of hardware and software, depending on the modeling detail and realism that is required for the role in which they are to be employed. […]
View Details
What's Zhuoyuan 360 Degrees Interactive Driving Simulator? High simulation 360 degree rotation interactive driving simulator, which is consist of 360 degrees rotated and three degrees of freedom interactive motion platform, 50-inch screen LCD TV, high-definition games, stereo surround sound system. Viewers can play combat, racing, boats and other dynamic interactive games in the 360 degree […]
View Details