what's Hydraulic system truck mobile 9d cinema?
It is the most advanced digital movie technology in the market which you can see, hear, touch and feel snow, wind, bubble, water as the movie goes on. Ċinema 5D viewers can experience new unique features, touch water, snow, bubble and feel smoke, lightning, legs touching, flowery flavour,etc. More special effects, luxury seats and high configuration can be called 9D cinema. Actually, 5D cinema is same as 9D cinema, the different is only the effects and environment.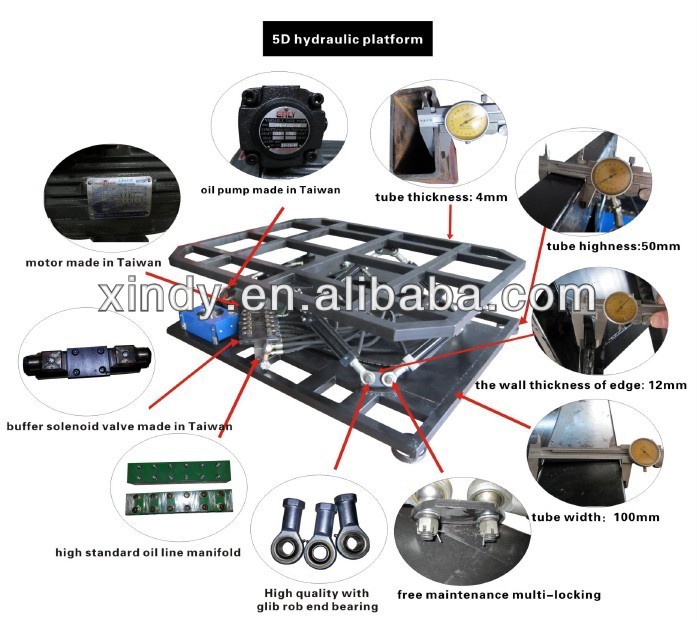 Hydraulic 5d cinema System Platform simulator equipment
| | |
| --- | --- |
| Hydraulic base weight | 300kg |
| Maximum load weight | 2000kg |
| Voltage | 220V/380V |
| Power | 3.7KW |
| Moving coordinate | 1715mm×1400mm×550mm |
| Lifting magnitude | 210-230mm |
| Environment | indoor |
| Ambient humidity degree | lower than 70% |
| Human comfort degree | 85%-95% |
1.Standard power is 380V.(220V also can work with a frequency converter.)
2.The brand of motor is S.Y from Taiwan, the oil pump is EALY also from Taiwan,
we provide the best quality equipment to customer.
Standard Configuration:
1.Sistema ta 'proġektor: L-adozzjoni ta' proġekter doppju biex tirrealizza immaġni tal-grupp jew kollegament multiplu ta 'kolonna columnar konnessjoni tal-wiċċ mingħajr saldatura. Meta tilgħab, żewġ proġekters jaraw fl-istess ħin u jikkorrispondu ma 'xellug u dritt movie.,,en,2.Sistema ta 'skrin tridimensjonali: Screen Soft Screen tal-Metall jew Hard Screen, tista' tagħżel skrin standard 4: 3,16: 9 jew saħansitra skrin ċirkolari. Installazzjoni tal-qafas tal-iskrin fuq l-art jew fuq il-ħajt huma disponibbli.,,en,3.Sistema ta 'sedil tal-moviment: pjattaforma elettrika 5D u pjattaforma idrawlika 5D huma disinn u produzzjoni professjonali, minbarra l-moviment' il fuq u 'l isfel, il-moviment tax-xellug u l-lemin tal-pjattaforma 3DOF tradizzjonali, pjattaforma taċ-ċinema 5D żżid ħafna angoli azzjoni biex jikseb l-effett ta 'kwalunkwe moviment tal-pjattaforma f'ċertu sens.,,en
2.Three-dimensional screen system: Metal Soft Screen or Hard Screen, can choose standard 4:3,16:9 screen or even circular-screen. Installing the screen frame above the ground or on the wall are available.
3.Motion seats system:9D electric platform and 9D hydraulic platform are professional design and production, in addition to the back and forth, left and right, up and down movement of tradition 6DOF platform,9D cinema platform add a lot of angles action to achieve the effect of any movement of the platform within a certain rang.
4.Sistema ta 'effett speċjali: Inkluża simulazzjoni tad-dawl, simulazzjoni tax-xita, simulazzjoni tas-silġ, simulazzjoni tad-duħħan, simulazzjoni ta' bużżieqa, twaqqigħ ta 'waqgħa sħuna, vibrazzjoni, blast tal-arja.,,en,5.Sistema ta 'kontroll tal-kompjuter: Sabiex tiżgura li s-sistema kollha tista' taħdem taħt ordni, tikseb effett tajjeb għall-udjenza. L-inġiniera tal-proċess jiffissaw l-ordni fiż-żmien eżatt skond il-film, biex jikkontrollaw il-bidla tas-sistema tal-proġettazzjoni, il-moviment chair, il-magna effettiva u s-sistema tal-ħoss.,,en,4: 3 11: 9 120inch, 150inch, 180inch, 200inch,,en,2sati, 4sedati, 6sseati, 8sseati, 9satijiet, 12settijiet, 16satiati, 18sedati, 24 siġġijiet eċċ. 2DOF 3DOF 6DOF,,en
5.Computer control system: To make sure all the system can work under order, achieve good effect to the audience. Process engineers setting the order in exact time according to the movie, to control the switch of projector system, motion chair, effect machine and sound system .
| | |
| --- | --- |
| Projector | NEC SHARP PANASONIC 2600,2800,3000,3500,4000,5000lumen |
| Screen | 4:3 11:9 120inch,150inch,180inch,200inch |
| Seats | 2seats,4seats,6seats,8seats,9seats,12seats,16seats,18seats,24 seats etc. 2DOF 3DOF 6DOF |
| Special effect | Dawl, xita, borra, duħħan, bużżieqa, qtar sħun, vibrazzjoni, blast ta 'arja, sprej ta' ċpar, stiker tar-riġlejn, riħ tal-widna, ħoss tal-widna u eċċ.,,en,Ċinema elettrika 5d,,en,Sistema taċ-ċinema elettrika 5d,,en,Pjattaforma tas-Sistema ta 'Ċinema Elettronika 5d | Xindy Animation Inc.,,en |
& Nbsp;
Inti tista 'ukoll tixtieq