350 Seats 4dx Cinema, the difference with the traditional 3D theater is that, 3D cinema can only watch stereo images through 3D glasses, but the 4D cinema uses a dynamic seat, through the control system and motion system, can simulate the movement in the movie synchronization, such as forward and backward, left and right tilt, vibration and sweep leg, real-time synchronization feel the action of the movie, and then with special effects system, simulate wind,rain,thunder,lightning, snow and smoke, etc., so that the audience have the feeling of immersive.
350 Seats 4dx Cinema Specification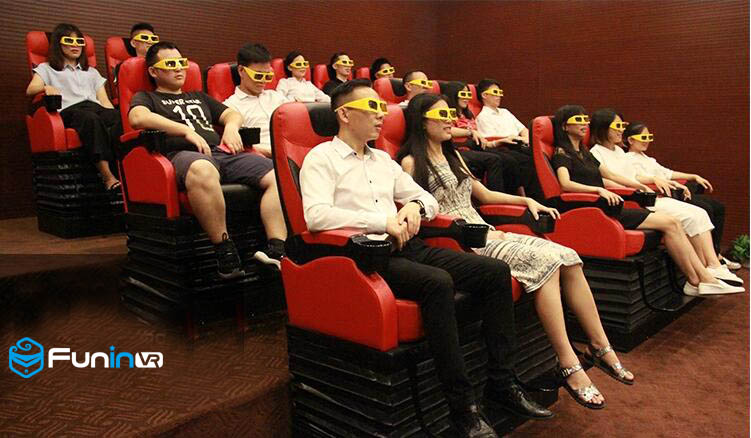 | | |
| --- | --- |
| Power | 3.75KW |
| Voltage | 220V |
| Power mode | Sistema Electric |
| Movement | 3 DOF |
| Seat quantity | 1-6 seats in group |
| Chair effects | Back poking and vibration |
| Movie | 150 pcs update 2 movies/month |
| Special effects | Xita, borra, bużżieqa, dawl, riħ, ċpar, riħa, nar,,en,Garanzija,,en,12months għal ħardwer, Servizz tal-ħin tal-ħajja għas-softwer,,en,7 ijiem wara li tirċievi d-depożitu,,en,Pakkett,,en,Pakkett tal-bżieżaq films tal-kartuna qafas tal-injam,,en,Pjattaforma dinamika minn FuninVR tista 'tissimula b'mod preċiż' il quddiem, lura, ix-xellug, il-lemin, waqgħa, daqqiet, xagħar, ilma, knis saqajn, poke back, ħażniet ta 'xokk u azzjonijiet oħra. Meta x-xeni li ġejjin jidhru fil-film, ikollok l-effetti korrispondenti. Pereżempju: il-plott tal-film meta l-karozza titlaq jew idur fuq il-lemin, is-sedil se jagħmel l-azzjoni korrispondenti; meta l-plott tal-film jaqa 'minn fuq għal isfel, is-siġġu jissimula malajr' l isfel. Din is-serje ta 'siġġijiet dinamiċi tal-plott tal-films jistgħu jiġu simulati u sinkronizzati bis-sħiħ!,,en |
| Warranty | 12months for hardware,Life time service for software |
| Delivery | 7 days after receiving deposit |
| Package | Bubble Pack stretch films carton wood frame |
Dynamic platform from FuninVR can accurately simulate forward, backward, left, right, fall, bumps, hair, water, sweep legs, poke back, shock stocks and other actions. When the following scenes appear in the movie, you will experience the corresponding effects. For example: the film plot when the car left or right turn, the seat will make the corresponding action; when the film plot falls from up to down, the chair will simulate a quick down. This series of movie plot dynamic seats can be simulated and fully synchronized!
If you want to know more about the vr simulator. Please leave your message, we will contact you as soon as possible!
Inti tista 'ukoll tixtieq