07-Jun-2014

Kategóriák

Címkék

Egyedi név

Egyéni érték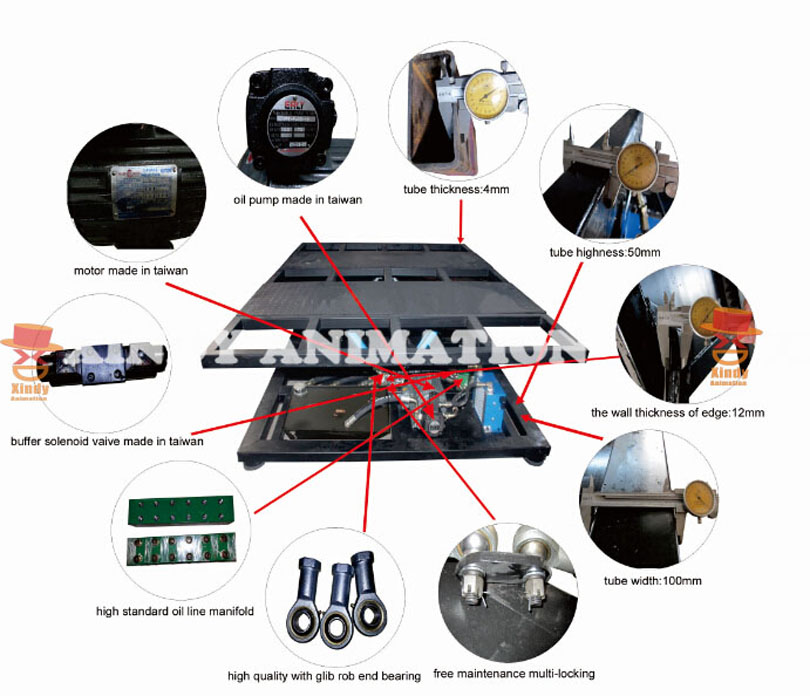 5D Cinema Berendezések Szállító Paraméter
Teljesítmény mód: hidraulikus
Teljesítmény: 3.75KW
Feszültség: 380V / 220V
Mozgás: 6 szabadságfokú
Vezérlési mód: hidraulikus / elektromos rendszer
Maximum az első és hátsó dőlésszög: kb 14 fok.
Maximum bal és jobb dőlésszög: kb 17 fok.
Legnagyobb repülőgép leszállás: 210mm-230mm.
Hatékony utazási: 150mm
Maximális terhelés: 2000kg
•Hydraulic chairs : the price of this chair is moderate, quality is also favorable, usually used in normal cinemas .
• Six degrees of freedom of hydraulic chairs: 6DOF design of hydraulic chair suits for 6 , 9 or 12 people .It can move more sensitive and flexible than 3DOF chair system, which will make you feel more real and accurate.
Mi is az Ön pneumatikus székek és szervomotor székek. Csakúgy, mint a követelmény ...
Válasszon minket! Hívjon nekem
Ügyfélszolgálatunk Önnel a 24 órával, miután az üzenet érkezett.
What is 5d cinema? The invention of 5D cinemas allowed us to plunge in the world of virtual reality, this technology is a perfect combination of 3D images and effects produced by the special equipment upon the human perceptive organs. You become totally involved in what is happening on the screen, and feel movements, rays of sun,wind […]
Nézet Részletek
What is 5d cinema? The invention of 5D cinemas allowed us to plunge in the world of virtual reality, this technology is a perfect combination of 3D images and effects produced by the special equipment upon the human perceptive organs. You become totally involved in what is happening on the screen, and feel movements, rays of sun,wind […]
Nézet Részletek