El 120 °,,en,Feria de Cantón,,en,está viniendo. La feria es integral con la historia más larga, el nivel más alto, la escala más grande, la variedad de exhibición más completa, la distribución más amplia de compradores en el extranjero y la mayor rotación de negocios en China.,,en,simuladores. caminata espacial de realidad virtual,,,en,Simulador de realidad virtual de tres asientos y 6 asientos, simulador de realidad virtual de vuelo, simulador de realidad virtual de vuelo ... Todo tipo de simulador de realidad virtual puede satisfacer todas sus necesidades. Deja que tengas una experiencia sin precedentes.,,en Canton Fair se cerró con éxito. Nuestro representante de ventas recibió miles de compradores en la Feria de Cantón de cinco días.,,en,Aunque solo mostramos dos productos vr en esta exposición, nuestro stand seguía siendo el lugar más animado y popular. los,,en,. ¡El jugador puede correr fácilmente al mundo virtual para dominar los personajes del juego corriendo y caminando! Entretenimiento y fitness al mismo tiempo, doble beneficio! Mira, el hombre estaba disfrutando el juego de,,en,Después de experimentar el vr walker, a continuación, podría jugar la vibración más emocionante,,en,. Los jugadores se paran en el,,en
Though we just show two vr products in this exhibition, our booth was still the most lively and popular place. The vibrating vr product y vr walker were surrounded by lots of purchasers. All of them were scrambling to experience these two vr products.
PART ONE: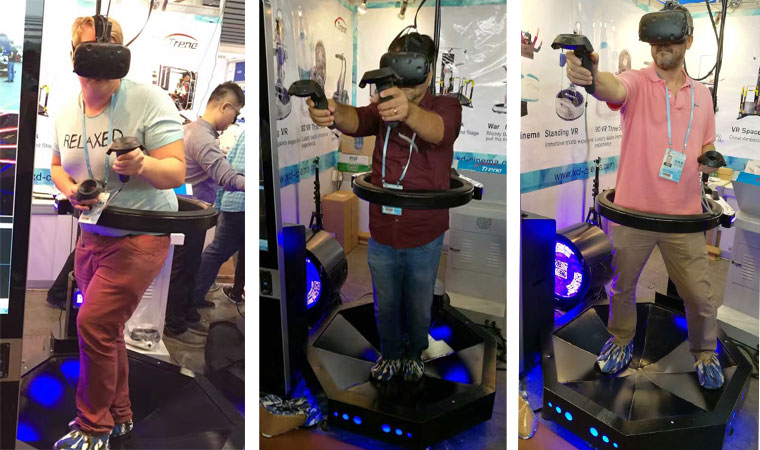 First, let's come to experience the vr walker. Player can easily run into the virtual world to master the game characters by running and walking! Entertainment and fitness at the same time, double benefit! Look, the man was enjoying the game of vr walker.

PART TWO: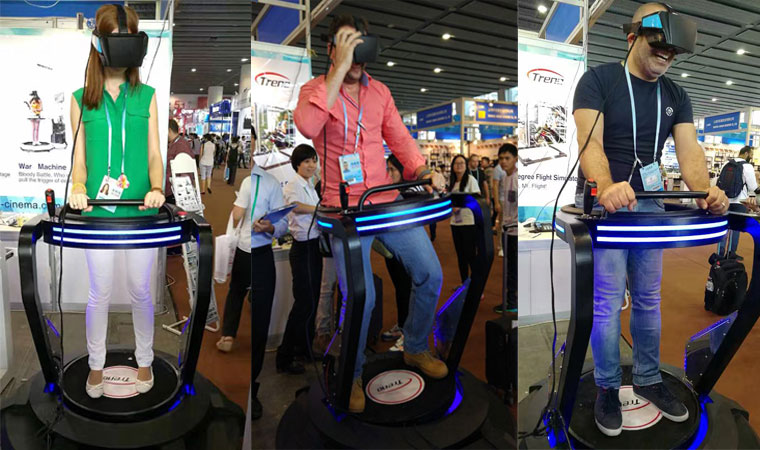 After experiencing the vr walker, next you could play the most exciting vibrating vr product. Players stand on the vibrating vr El producto y el uso de gafas VR pueden sentir el movimiento vibrante de arriba, abajo, izquierda, derecha, como la escena de la montaña rusa, la conducción de automóviles y el efecto de terremoto en el juego. El producto vr vibrante se llamó "Scream Maker". Dado que todo el jugador gritará cuando juegue el producto vr vibrante.,en

PART THREE: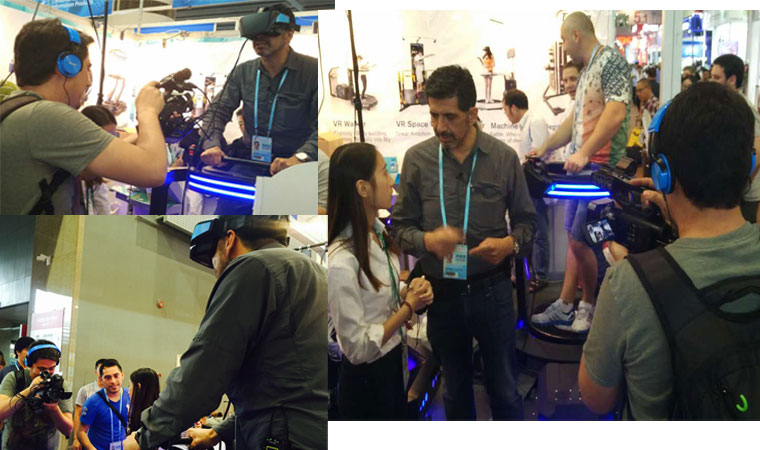 Such an noisy crowd booth did the journalist find it is that they came to experience our vr products and interview our sales person. The Chilean journalist spoke highly of our products. He said that the vr products were well received by customer's favorite in Chile and hopes to establish long-term cooperated relationships with our company.
The 120th Canton Fair ended successfully! If you still want to experience our products, please come to our company and factory. We are looking forward to your coming.
If you want to know more about vibrating vr product y vr walker ,please leave your message, we will contact you as quickly as possible.
页面下部广告
También te puede interesar