Den 120. Canton Fair trak til en vellykket afslutning. Vores salg person modtaget tusindvis af købere i de fem-dages Canton Fair.
Selvom vi viser blot to vr produkter i denne udstilling, vores stand var stadig den mest livlige og populære sted. Det vibrerende vr produkt og vr walker var omgivet af masser af købere. Alle af dem var travlt med at opleve disse to vr produkter.
DEL ET: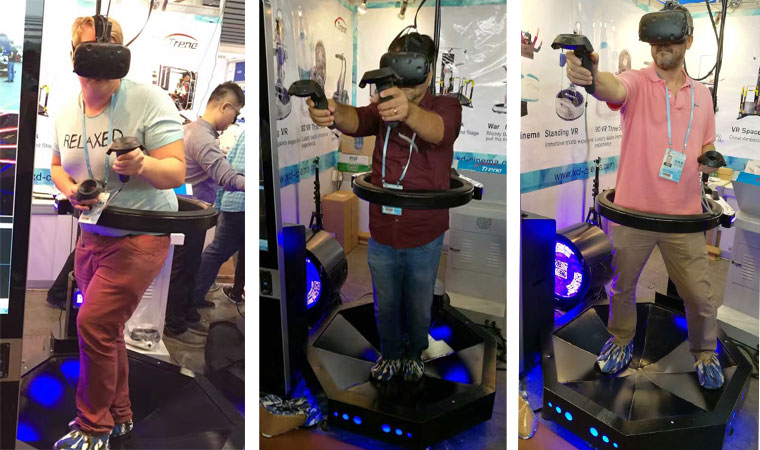 Først, lad os komme til at opleve den vr walker. Spilleren kan let løbe ind i den virtuelle verden for at mestre spilfigurerne ved at løbe og gå! Underholdning og fitness på samme tid, dobbelt fordel! Se, manden nød spillet,,en,Efter at have oplevet vr-rullatoren, kunne du næste spille den mest spændende vibrerende,,en,. Spillere står på,,en,produkt og bære VR-briller, kan føle den vibrerende bevægelse af op, ned, til venstre, til højre, som scenen med rutsjebane, biler kørsel og jordskælv effekt i spillet. Det vibrerende vr-produkt fik navnet "Scream Maker". Da alle spillerne skriker, når de spiller det vibrerende vr-produkt.,,en vr walker.

DEL: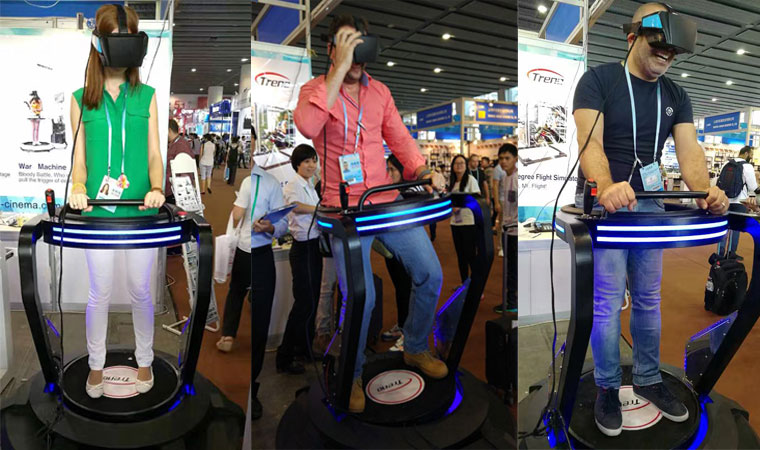 After experiencing the vr walker, next you could play the most exciting vibrating vr product. Players stand on the vibrerende vr product and wear VR glasses, can feel the vibrating movement of up, down, left, right, as the scene of roller coaster, cars driving and earthquake effect in the game. The vibrating vr product was named" Scream Maker". Since all of the player will scream when they playing the vibrating vr product.

DEL: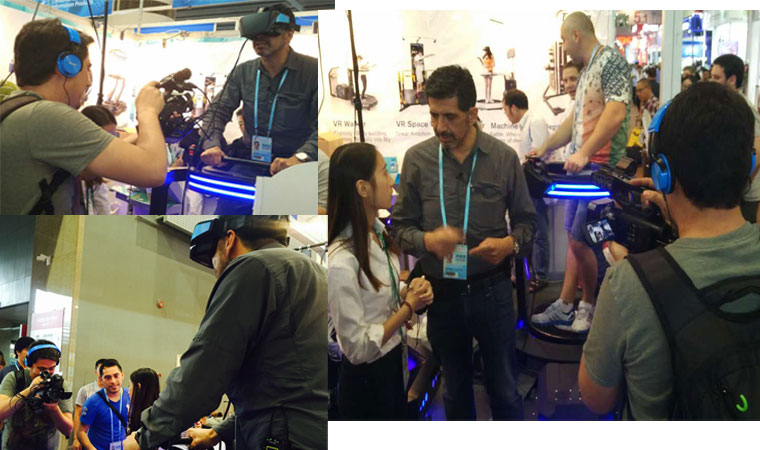 En sådan larmende flok booth fandt journalisten finde det er, at de kom for at opleve vores vr produkter og interviewe vores salg person. Den chilenske journalist talte meget om vores produkter. Han sagde, at vr produkter blev godt modtaget af kundens foretrukne i Chile og håber at etablere langsigtede samarbejdede relationer med vores virksomhed.
Den 120. Canton Fair endte med succes! Hvis du stadig ønsker at opleve vores produkter, kan du komme til vores virksomhed og fabrik. Vi ser frem til din kommende.
If you want to know more about vibrerende vr produkt og vr walker , Bedes du forlade din besked, vil vi kontakte dig så hurtigt som muligt.
Du må også gerne