2D skærm, der viser effekten af ​​et fly, det er ligesom et stykke papir, der siger indholdet af det samme, kun det originale læsning.
3D er et tredimensionalt billede, ligesom mange online spil som World of Warcraft har med det blotte øje 3D-visning, samt traditionelle teaterstykke 3d filmDet er mere end en endimensional 2d, kan forstås som det er eksistensen af ​​et mellemrum.
5D/7D belong to the four-dimensional, there is a combination of three-dimensional simulation of the surrounding environment combined with the four-dimensional space; it is a new product on the basis of 3D movies, plus environmental effects, which consists of imitating simulation. Therefore 7D can experience hair, water, smoke, bubbles, snow, lightning and other special effects, the formation of a unique form of performance. Experience who can isolate "lightning, wind, snow", when "snow" There is a sense of cold, rain will "wet" the clothes, the "weightless" feeling when you fall.
7D can not watch movies seatbelt, can not wear "3D glasses." While taking advantage of seats effects and environmental effects, surreal visual experience with a special, irritant effects synchronized performance to simulate scenes and special agencies set up to mimic the actual event, generating contrast, lifelike stereo Meanwhile the screen, as the story changes, simulate a variety of special effects lightning, wind, frost, rain, snow, and other explosive impact, visual, auditory, tactile and dynamic blend perfectly, allowing the audience to participate and integrate into the heart and soul to plot among fantasy simulation experience, thrilling adventure.
7D er et centralt element i effekten af ​​miljøpåvirkninger, der er, kan publikum opleve at være i filmen det samme miljø, styrke følelsen af ​​publikum medrivende oplevelse med personerne i filmens miljø.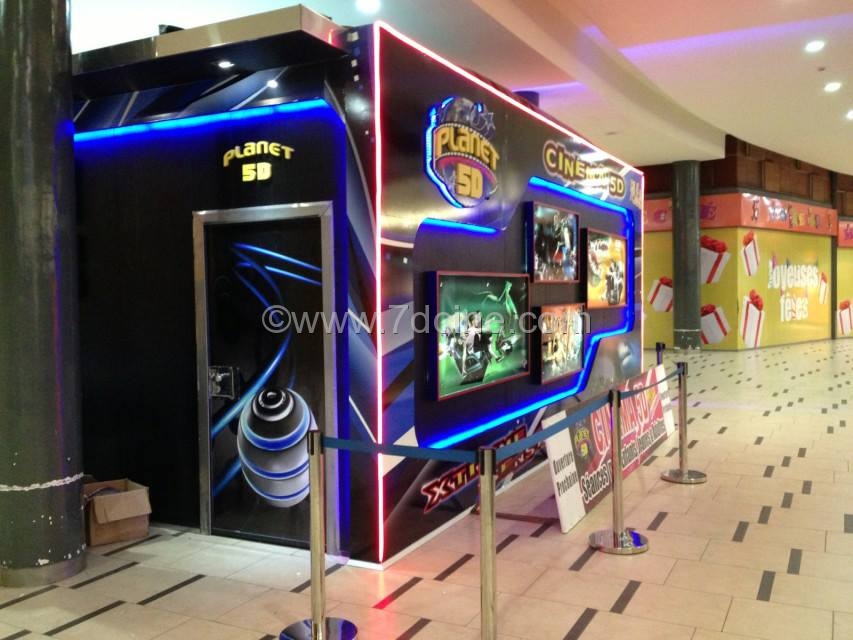 Du må også gerne