07-Jun-2014

Kategorier

Tags

Specialnavn

Tilpasset Value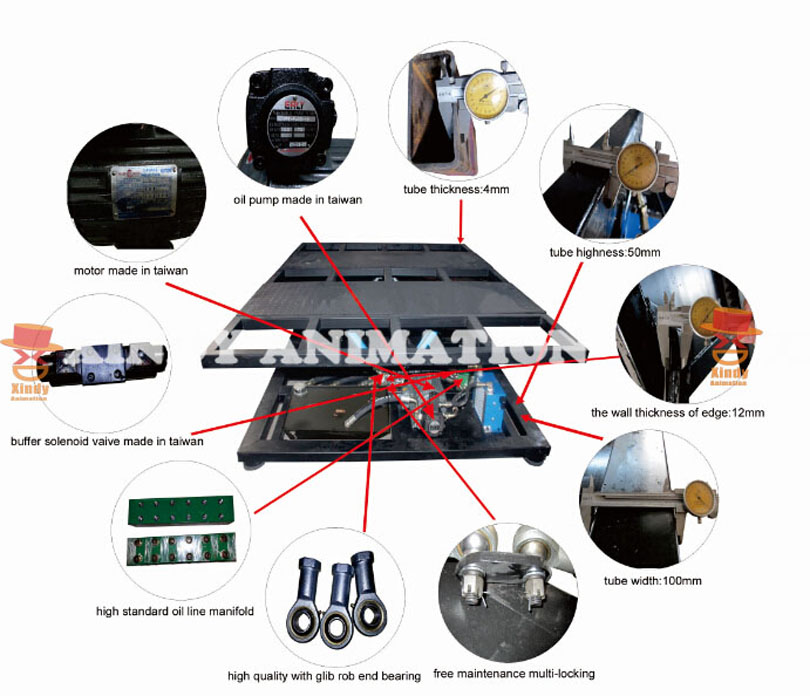 5d Biograf Equipment Supplier Parameter
Strømtilstand: hydraulisk
Effekt: 3.75KW
Spænding: 380V / 220V
Bevægelse: 6 DOF
Reguleringsmåde: hydraulisk / elektrisk system,
Største og bag hældningsvinkel: ca 14 grader.
Maksimal venstre og højre hældningsvinkel: på omkring 17 grader.
Største flyet lander: 210mm-230mm.
Effektiv rejse: 150mm
Maksimal belastning: 2000 kg
•Hydraulic chairs : the price of this chair is moderate, quality is also favorable, usually used in normal cinemas .
• Six degrees of freedom of hydraulic chairs: 6DOF design of hydraulic chair suits for 6 , 9 or 12 people .It can move more sensitive and flexible than 3DOF chair system, which will make you feel more real and accurate.
Vi kan også give dig pneumatiske stole og servomotor stole. Ligesom dine krav ...
Vælge os! Ring til mig
Vores support team vil komme tilbage til dig i 24 timer efter din besked er modtaget.
What is 5d cinema? The invention of 5D cinemas allowed us to plunge in the world of virtual reality, this technology is a perfect combination of 3D images and effects produced by the special equipment upon the human perceptive organs. You become totally involved in what is happening on the screen, and feel movements, rays of sun,wind […]
Vis detaljer
What is 5d cinema? The invention of 5D cinemas allowed us to plunge in the world of virtual reality, this technology is a perfect combination of 3D images and effects produced by the special equipment upon the human perceptive organs. You become totally involved in what is happening on the screen, and feel movements, rays of sun,wind […]
Vis detaljer
What is 5d cinema? The invention of 5D cinemas allowed us to plunge in the world of virtual reality, this technology is a perfect combination of 3D images and effects produced by the special equipment upon the human perceptive organs. You become totally involved in what is happening on the screen, and feel movements, rays of sun,wind […]
Vis detaljer