America's customers always want to start his own business and looking for some projects to invest in. He have looked at lots of shopping plazas and found that there were many clothing and diet stores. If he open the same type stores in the shopping plaza, it will lack the core competitive ability. He thought there were few entertainment projects in shopping plaza, so he want to open a store about amusement devices. But he searched for a long time and couldn't find any that really satisfied him until that one day he saw Zhuoyuan's virtual reality simulator during he watching the news on TV. He had contacted us immediately.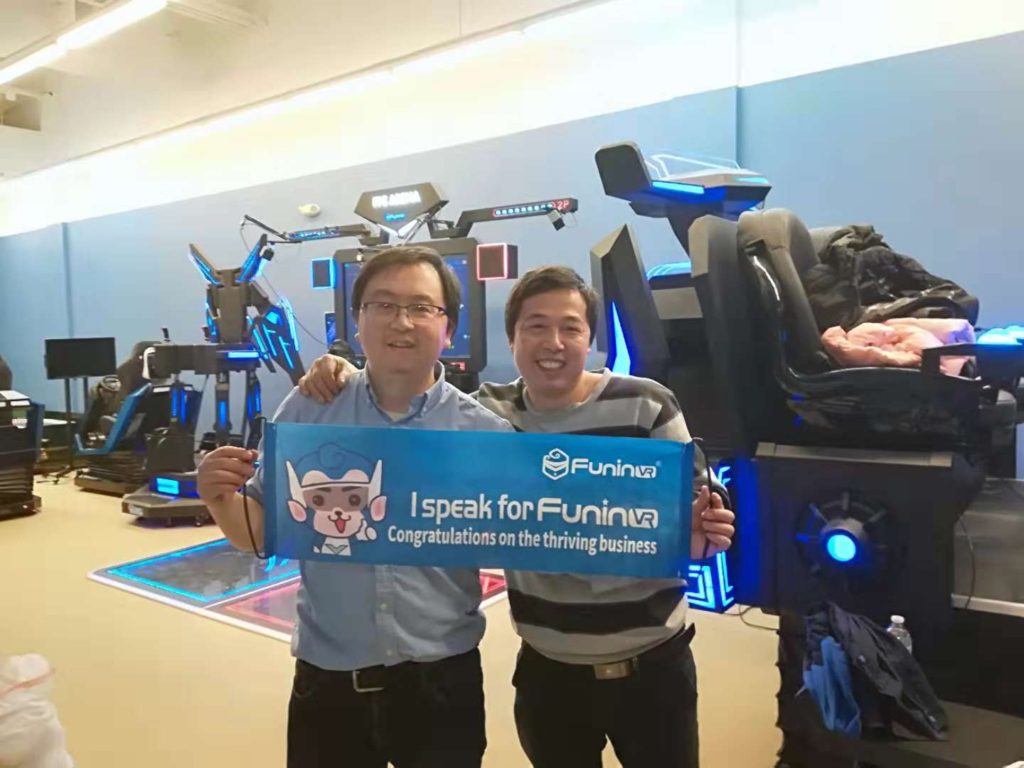 9d VR Game is a VR game machine a la base de l'operació integrada de l'HTC VIVE, podria combatre amb l'altre jugador per separat i en línia; i podeu experimentar jocs VR en indicacions de 360 ​​graus en una àrea limitada, però segura. A l'escena virtual et porta a la batalla ferotge i tira el disparador de la mort per matar l'enemic, pots ser un heroi al món VR.,,en,Per què escollir la nostra,,en,Els jocs HTC són molt millors i tenen més qualitat que els d'altres dispositius.,,en,Ràpid aparença, que mostra l'esperit d'artesà. Locals comercials il·limitats; Hem estat la recerca constant d'idees innovadores, el tractament seriós de tots els detalls de cada producte, cada producte ha de ser perfecte.,,en,Les interaccions dins dels jocs són més complexes i hi ha més funcions.,,en
Why choose our 9d vr game simulator
HTC games are way better and have more quality than the ones in other devices.
Streamline appearance, showing the spirit of craftsman. Unlimited business premises; We have been constant pursuit of innovative ideas, serious treatment of every detail of every product, every product has to be perfect!
The interactions inside the games are more complex and there are more functions.
Contingut excel·lent, joc popular, "Disparador mort", "caça de taurons de mar profund", "defensa hàbil and", etc., tants jocs de VR més importants us esperen.,,en,Les mesures de seguretat del producte són suficients perquè els clients estiguin a gust mentre juguen jocs emocionants.,,en,Fàcil de jugar, sense necessitat de desgast, fàcil d'utilitzar, no cal desgastar el sensor, només estar dempeus a la plataforma per començar el joc, estalviant el cost!,,en,La plataforma és petita, barata i molt llogable.,,en,De mida petita i d'ús elevat, i que mostra l'enorme poder guanyador, una superfície inferior a 5 metres quadrats, estalviant la renda i el cost, guanyant diners en silenci.,,en,9d màquina de joc vr,,en,La màquina popular de joc dinàmic Dynamic Motion 9D Cinema Egg 9d en venda | Xindy Animation Inc.,,en
The safety measures of the product are enough to let the customers be at ease while playing exciting games.
Easy to play, no need wear, easy to operate, No need wear the sensor device, just standing on the platform to start the game, saving the cost!
The platform is small, cheap and very rentable.
Small size and high-usage, and showing the huge earning power, Area less than 5 square meters, saving the rent and cost, making money in silence.
If you want to know more about the vr simulator . Please leave your message, we will contact you as soon as possible!
页面下部广告
També et pot interessar