The Green City Mall in Kamennaya Gorka, the Teleport parc d'atraccions is preparing for the opening. It represents several game simulator halls with enhanced (virtual) reality technology – VR. The park's partner is Neurogaming, founded by Wargaming and VRTech. These equipments are purchased from Guangzhou Zhuoyuan -FuninVR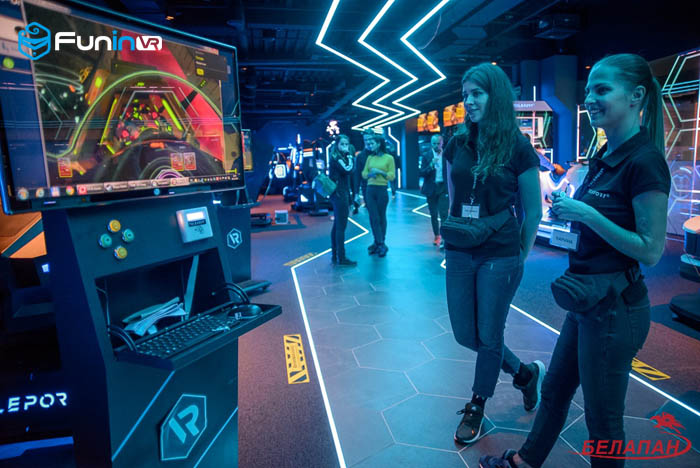 Sitting behind the wheels that look like motorcycles or VR Racing Kart, you can change the game, the track, and the entourage. The platform repeats the movement of the car and reproduces all the impact and rotation, to give you a feel of being completely immersed in the process.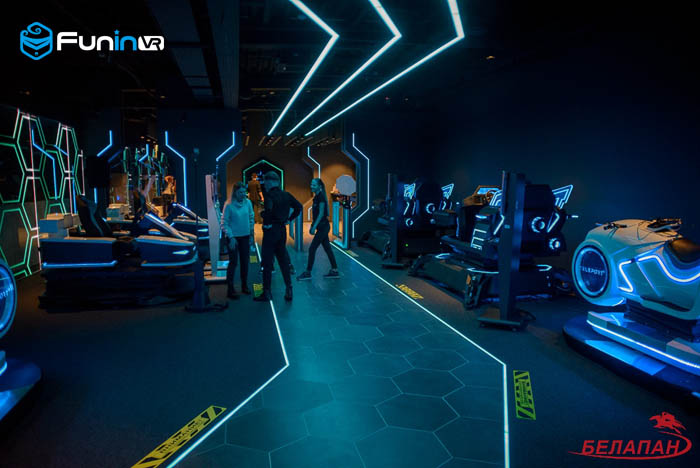 Per als aficionats al tir, hi ha cadires especials de plataforma que imiten robots de caminar o voladors. Objectiu a través de les ulleres, control de tir - es produeix a través del pal de control. La plataforma també gira i respon al que està passant, juntament amb les ulleres VR, proporcionant un efecte inigualable dels jocs ordinaris ordinaris.,,en,Fins i tot hi ha un dispositiu que gira 720 graus. "En un pilot, es pot preparar", va dir un dels empleats del parc.,,en
There is even a device that turns 720 degrees. "In such a pilot, it is possible to be prepared," said one of the park staff.
"A causa dels desequilibris i la incompatibilitat amb els moviments del cos, es produeix malaltia pel moviment. Assegut en una cadira a casa, immers en una muntanya russa, realment es pot balancejar. Així doncs, combinem la física, el moviment i la realitat virtual del procés. Això permet eliminar moments negatius ", explica Sergey Yulevich, director i cofundador de Teleport Park.,,en,9D Parc de temes d'experiència de realitat virtual 9D a Bielorússia | Xindy Animation Inc.,,en
If you want to know more about the vr simulator . Please leave your message, we will contact you as soon as possible!
页面下部广告
També et pot interessar