30-Lip-2014

Kategorije

Tagovi

Custom Name

Vrijednost Custom
Što je 5D kino?
The invention of 5D cinemas allowed us to plunge in the world of virtual reality, this technology is a perfect combination of 3D images and effects produced by the special equipment upon the human perceptive organs.
Vi postajete potpuno uključeni u ono što se događa na ekranu, i osjetiti pokrete, zrake sunca, vetra i vlažan vazduh okeana vjetar itd
Our 5D kino / Teatra na osnovu 3D stereo kino / teatra i profesionalnih pokreta / dinamična hidraulični sjedala / stolice je dodao razne vrste uticaja na životnu sredinu, uključujući munje simulacija, kiša simulacija, snijeg simulacija, smog simulacija, Bubble simulacija, topla kap pada, vibracije, klima eksplozije, prskanja, nogu golicanje, uho vjetra, zvuk uha i sl
Prihodi od 5D Motion Cinema


Cijeli set 5D kino opreme, uključujući
1. 5D dinamičkog sistema: hidraulični & amp; električni Motion dinamičkog sjedala sistema
2. Audio sistem: 5.1 digitalni zvučni sistem: 2 glavna zvučnik, 2 surround zvučnika, 1 subwoofer i 1 pojačalo
3. Specijalni efekti sistem: specijalne efekte u sjedala: Leg golicanje, Ear vjetra, Back push, vibracija sjedišta, Butt poker, specijalne efekte na životnu sredinu: Snijeg, voda-sprej, Bubble, rasvjeta, vjetra, Smog, Vatra, Aroma
4. 5D projekcija sistem: prilagođene projekcije ekrana, EPSON / NEC / SHARP / PANASONIC projektori
5. 5D sistem kontrole: Sistem kontrole računalo sa softverom 7D, efekat kutiju i 7D filmove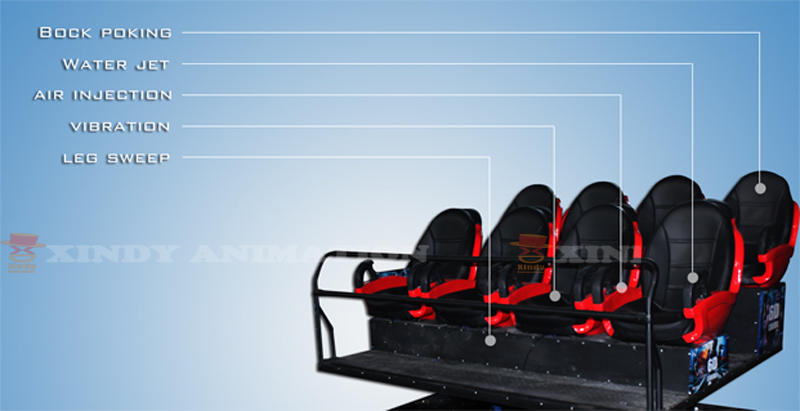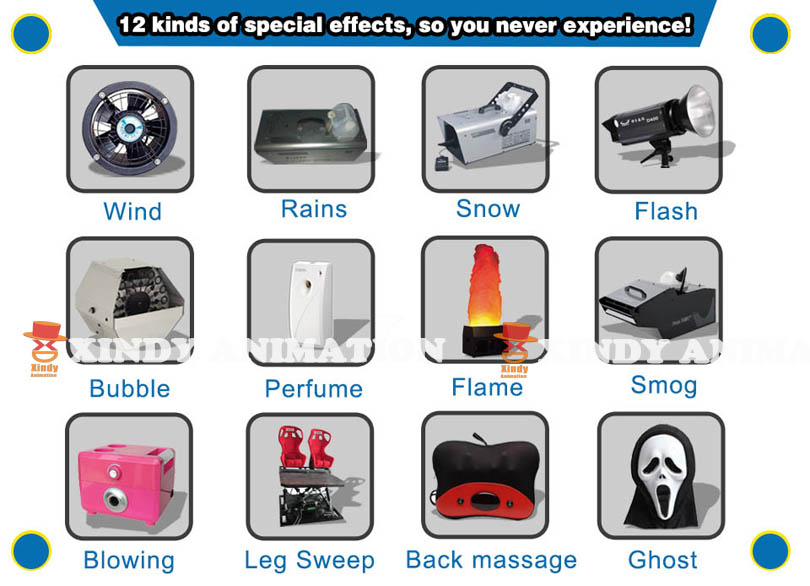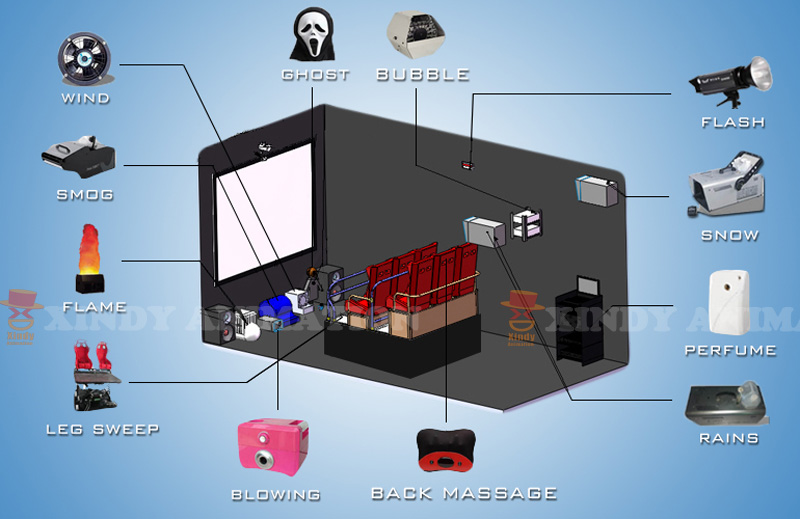 Više stila pozorište stolicu za vas da izaberete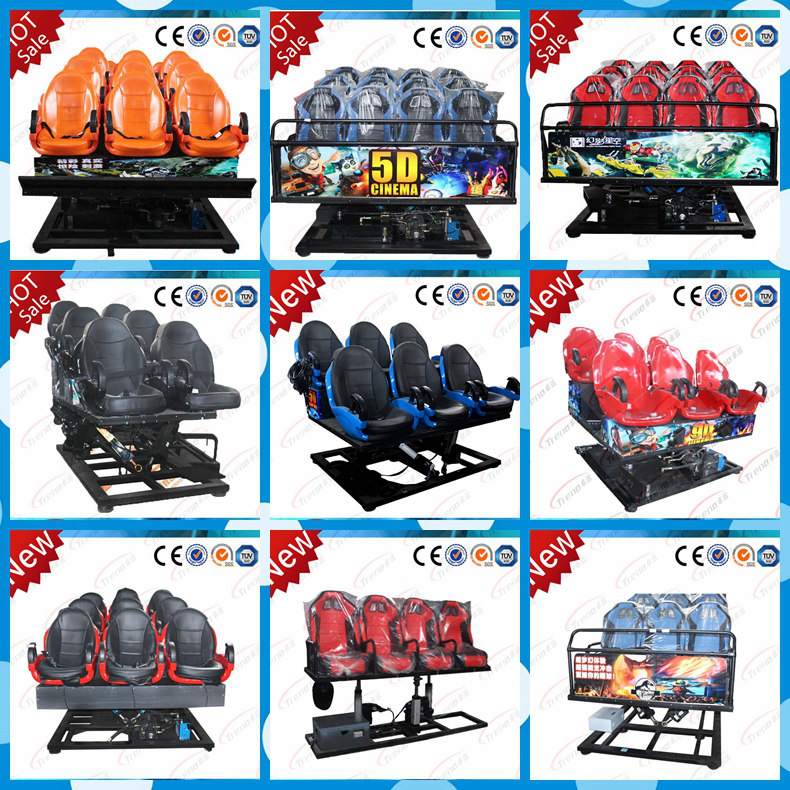 Latest 6dof
Platform
Tehnologija
1. Platforma karakteristika električne dinamičke tehnologije:
Električni platforma se sastoji od šest jake električne cilindara sa šest nezavisnih motora, a dva paralelna željeza platforme. Kontrolu motora cilindara za pomicanje gore i dolje, a zatim cilindara gurnite platformu da se iz različitih uglova.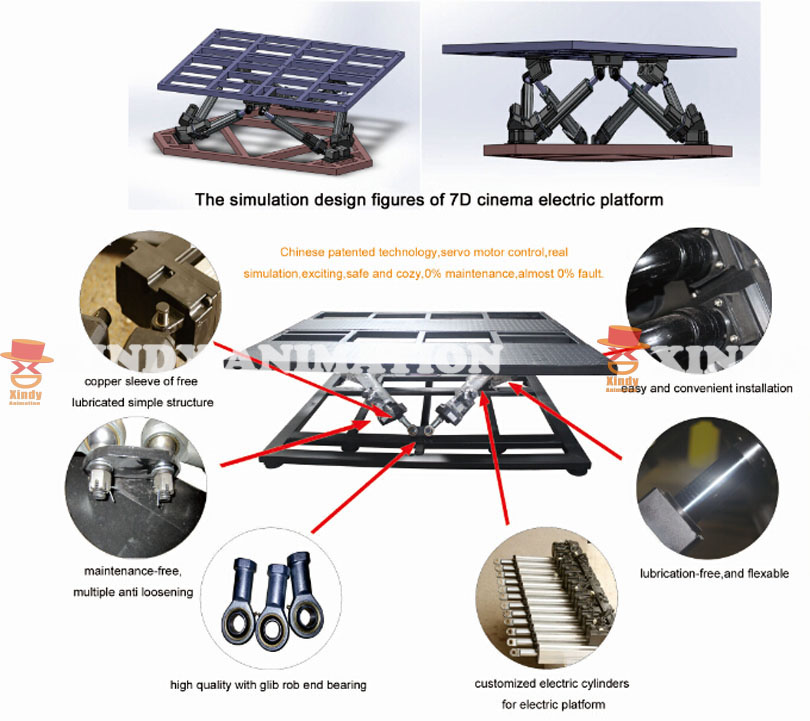 2. Platforma karakteristika hidrauličkog dinamičke tehnologije:
The hydraulic platform consists of six hydraulic cylinders, one motor, one oil pump, one oil box, six solenoid valves, one cooling fan and two iron platforms. The control unit transmits signal to motor and solenoid valves, which drives the motor to work. So motor provides power for oil pump, and it prompts oil to run towards solenoid valves. When solenoid valves receives signal from control unit, it will open and close in time. So that oil can enter the oil tubes and provide pressure for hydraulic cylinders. At last, the movement of cylinders leads to platform's working.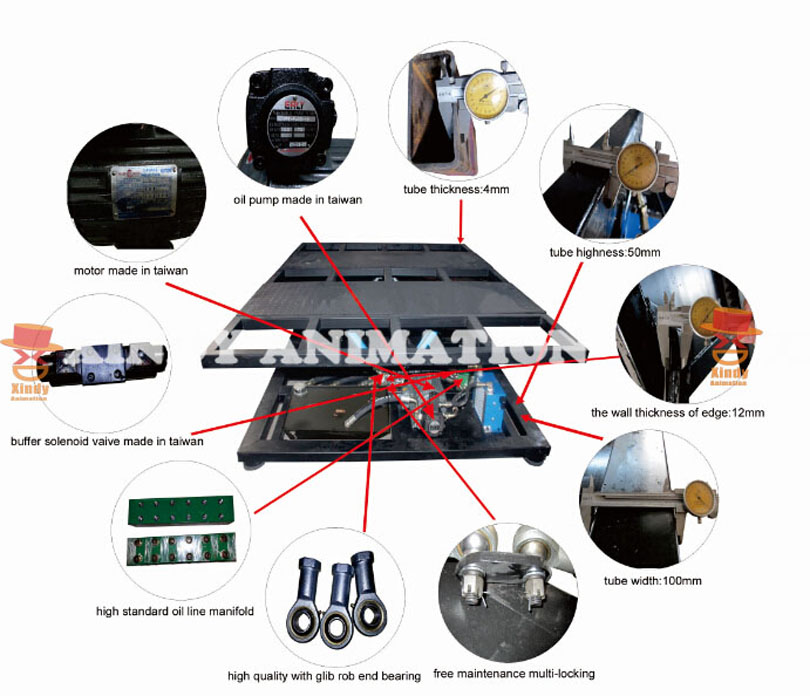 Our customer cases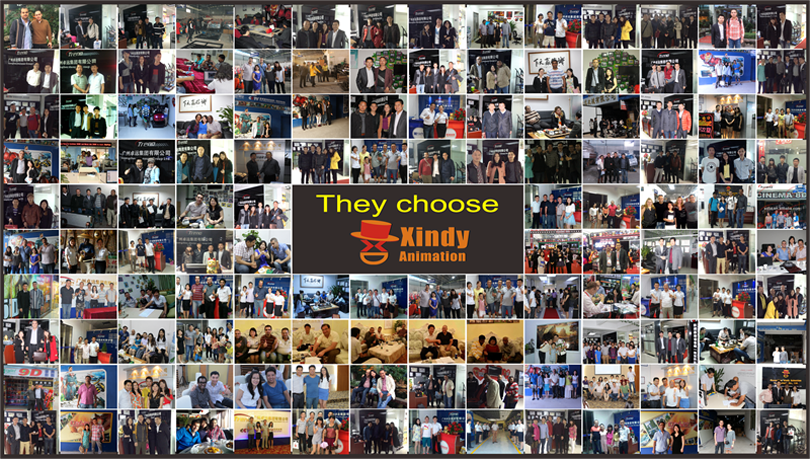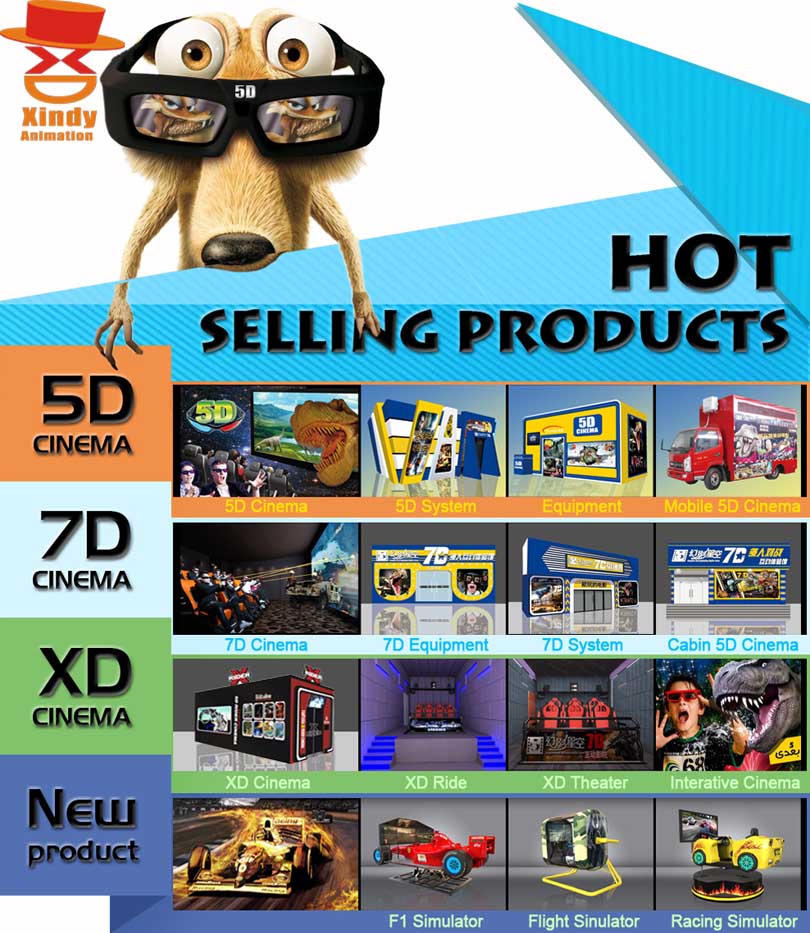 Choose Us! Call to me
Naš tim za podršku će vam se javiti u 24 sata nakon što je dobio svoju poruku.
Vi svibanj također željeli
What is 5d cinema? The invention of 5D cinemas allowed us to plunge in the world of virtual reality, this technology is a perfect combination of 3D images and effects produced by the special equipment upon the human perceptive organs. You become totally involved in what is happening on the screen, and feel movements, rays of sun,wind […]
Detaljnije
5d Cinema Equipment Supplier Parameter Power mode: hydraulic Power: 3.75KW Voltage: 380V / 220V Movement: 6 DOF Control mode: hydraulic / electric system Maximum front and rear tilt angle: of about 14 degrees. Maximum left and right tilt angle: of about 17 degrees. Largest plane landing: 210mm-230mm. Effective travel: 150mm Maximum load: 2000kg •Hydraulic chairs […]
Detaljnije
What is 5d cinema? The invention of 5D cinemas allowed us to plunge in the world of virtual reality, this technology is a perfect combination of 3D images and effects produced by the special equipment upon the human perceptive organs. You become totally involved in what is happening on the screen, and feel movements, rays of sun,wind […]
Detaljnije