07-Jun-2014

Kategorije

Tagovi

Custom Name

Vrijednost Custom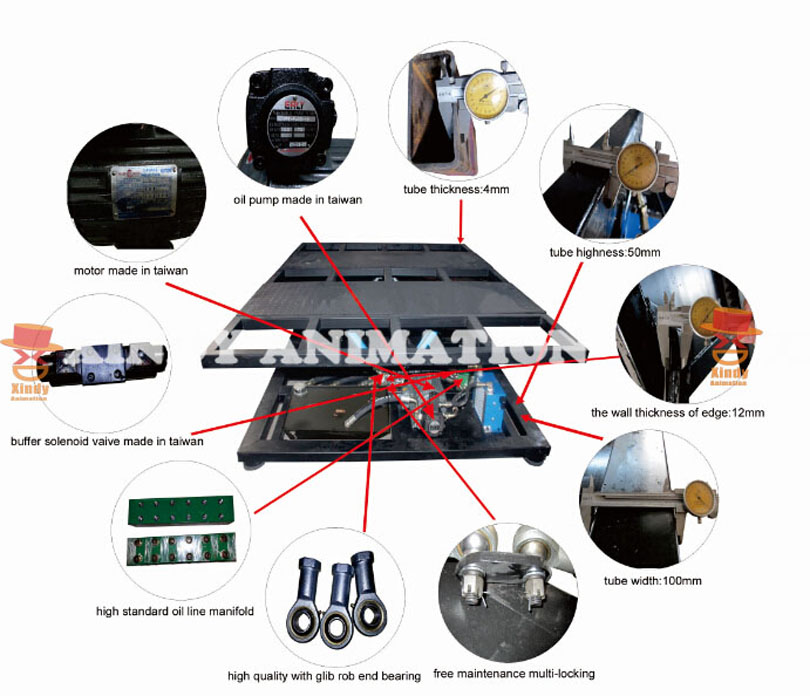 5D kino,,en,se temelji na 3D kino tehnologiju integracija, uključujući optoelektronike, snijeg, vibracija, vodeni sprej, kosu i druge složene efekte scene naročito od nove generacije digitalnih video tehnologije!,,en Equipment Supplier Parameter
Power mode: hydraulic
Power: 3.75KW
Voltage: 380V / 220V
Movement: 6 DOF
Control mode: hydraulic / electric system
Maximum front and rear tilt angle: of about 14 degrees.
Maximum left and right tilt angle: of about 17 degrees.
Largest plane landing: 210mm-230mm.
Effective travel: 150mm
Maximum load: 2000kg
•Hydraulic chairs : the price of this chair is moderate, quality is also favorable, usually used in normal cinemas .
• Six degrees of freedom of hydraulic chairs: 6DOF design of hydraulic chair suits for 6 , 9 or 12 people .It can move more sensitive and flexible than 3DOF chair system, which will make you feel more real and accurate.
We can also provide you pneumatic chairs and servo motor chairs. Just as your requirement…
Choose Us! Call to me
Naš tim za podršku će vam se javiti u 24 sata nakon što je dobio svoju poruku.
Vi svibanj također željeli
What is 5d cinema? The invention of 5D cinemas allowed us to plunge in the world of virtual reality, this technology is a perfect combination of 3D images and effects produced by the special equipment upon the human perceptive organs. You become totally involved in what is happening on the screen, and feel movements, rays of sun,wind […]
Detaljnije
What is 5d cinema? The invention of 5D cinemas allowed us to plunge in the world of virtual reality, this technology is a perfect combination of 3D images and effects produced by the special equipment upon the human perceptive organs. You become totally involved in what is happening on the screen, and feel movements, rays of sun,wind […]
Detaljnije
What is 5d cinema? The invention of 5D cinemas allowed us to plunge in the world of virtual reality, this technology is a perfect combination of 3D images and effects produced by the special equipment upon the human perceptive organs. You become totally involved in what is happening on the screen, and feel movements, rays of sun,wind […]
Detaljnije