350 Seats 4dx kino,,en,se temelji na 3D kino tehnologiju integracija, uključujući optoelektronike, snijeg, vibracija, vodeni sprej, kosu i druge složene efekte scene naročito od nove generacije digitalnih video tehnologije!,,en, the difference with the traditional 3D theater is that, 3D cinema can only watch stereo images through 3D glasses, but the 4D kino uses a dynamic seat, through the control system and motion system, can simulate the movement in the movie synchronization, such as forward and backward, left and right tilt, vibration and sweep leg, real-time synchronization feel the action of the movie, and then with special effects system, simulate wind,rain,thunder,lightning, snow and smoke, etc., so that the audience have the feeling of immersive.
350 Seats 4dx Cinema Specification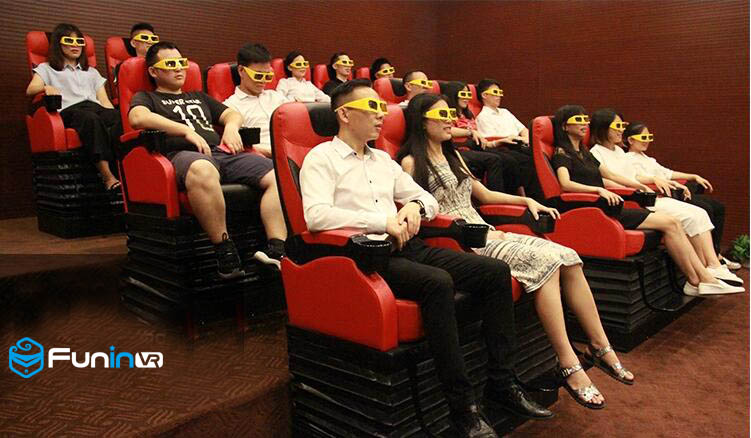 | | |
| --- | --- |
| Moć | 3.75KW |
| Napon | 220V |
| Power mode | Električni sustav |
| Pokret | 3 DOF |
| Seat quantity | 1-6 seats in group |
| Chair effects | Back poking and vibration |
| Film | 150 pcs update 2 movies/month |
| Specijalni efekti | Rain, snow, bubble, lighting, wind,fog,smell,fire |
| Warranty | 12 mjeseci za hardver, servis za vrijeme trajanja softvera,,en,7 dana nakon primitka depozita,,en,Paket,,en,Bubble Pack kutija za rastezanje filmova drveni okvir,,en,Dinamička platforma iz FuninVR-a može precizno simulirati naprijed, nazad, lijevo, desno, jesen, udarce, kosu, vodu, pomesti noge, udariti leđa, udariti dionice i druge akcije. Kada se u filmu pojave sljedeće scene, pojavit će se odgovarajući efekti. Na primjer: filmska radnja kada automobil skrene lijevo ili desno, sjedalo će izvršiti odgovarajuću akciju; kada filmska parcela padne odozgo prema dole, stolica će simulirati brzinu. Ova serija dinamičnih sedišta za film može se simulirati i potpuno sinkronizirati!,,en |
| Isporuka | 7 days after receiving deposit |
| Package | Bubble Pack stretch films carton wood frame |
Dynamic platform from FuninVR can accurately simulate forward, backward, left, right, fall, bumps, hair, water, sweep legs, poke back, shock stocks and other actions. When the following scenes appear in the movie, you will experience the corresponding effects. For example: the film plot when the car left or right turn, the seat will make the corresponding action; when the film plot falls from up to down, the chair will simulate a quick down. This series of movie plot dynamic seats can be simulated and fully synchronized!
Ako želite znati više o vr simulator. Molimo Vas da ostavite poruku, kontaktirat ćemo vas u najkraćem mogućem roku!,,en,Xindy 9d vr kino simulator cijena virtualna stvarnost za prodaju Xindy Animation Inc.,,en
Vi svibanj također željeli