MS. Fan has bought a set of three seats 9d jaje vr kino and shooting game simulator, and she has put them in a small city. Although she do business in a small city, his business is better than the big city.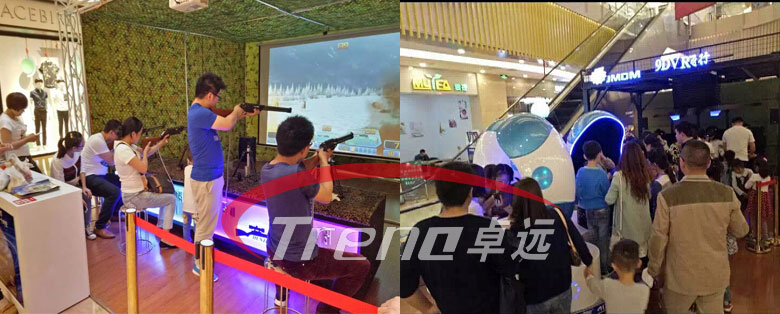 Her 9d egg vr cinema and shooting game simulator Experience Pavilion was open in late April. From his vr experience pavilion opening to now, his turnover reached about USD 600 per day. You may ask" Why the business of his vr experience pavilion could so good? " We had an interviewed her for this issue.
1. She had chosen the right products
Njena ciljna grupa paviljona sa iskustvom iz filma 9d jaje vr je djeca i tinejdžeri. Tako je izabrala proizvode koji su popularni kod dece i tinejdžera. Na primjer, tri sjedala 9d jaje vr kina, svoj modni cool izgled, opremljen sa stražnjim svjetlima i pucati svjetlo, uhvatiti oči prolaznika. Različiti učinci na okoliš dopuštaju djeci da uživaju toliko da zaborave da odu.,,en,Gospođa Fan je stavila,,en
2.She had chosen the right place.
Ms Fan had put the Zhuoyuan 9d egg vr cinema and the shooting game simulator in a shopping mall. The shopping mall with a high flow of customer traffic and it held some activities almost every week. These shopping mall's activities bring lots of customers to her vr experience pavilion.
3. She often does activities and promotion.
Ms Fan often launch some promotions, for example, hand out leaflets, get the membership card when consumers' bonus points have reached a certain amount, group purchase discount… These activities and promotion help her business kept getting better.
Now, Ms. Fan is planning to open more vr experience pavilions. Her successful experiences tell us that it's so important to choose the right products during doing business.

Ako želite znati više o 9d egg vr cinema, Molimo vas da ostavite poruku, mi ćemo vas kontaktirati u najkraćem mogućem roku.
Vi svibanj također željeli